They were literally dancing in the aisles at Colston Hall this weekend as a 300 strong choir dressed in all colours of the rainbow took to the stage for Cartoon Jazz.
It was a real family affair too from babes in arms to grandads and grandmas tapping their feet to jazzed up versions of classic tunes from some of the world's favourite animations.
Toy Story 2, Princess and the Pea and the Little Mermaid were among the Hollywood hits given the Bristol Jazz and Blues Festival treatment. And of course no event with a focus on cartoons would be complete without Frozen's 'Let It Go'.
Gospel singer Celestine Walcott-Gordon put in a powerful performance as she belted out the tunes, while conductor Andy Williamson surprised us all when he handed over the reigns for the Bear Necessities for what we thought was a break but it turned out that he was the lead vocalist!
The brilliant 75 minute concert concluded with the entire choir and orchestra parading into the audience for a group sing-song. Cartoon Jazz was a real immersive experience and almost all of the 2,000 people watching got involved!
The concert wasn't our first experience of the festival. The night before we watched Paradox Ensemble in Colston Hall's intimate Lantern venue.
The contemporary jazz band wowed us their trombone, accordion, piano and saxophone sounds mixed with electronic beats. Nina in particular was very excited when we bumped into the band afterwards and we had a quick chat and took a team photo!
We'd planned to make those two events the only ones we attended at the festival but we ended up spending another eight hours at Colston Hall over the weekend!
As well as the paid programme of events, an amazing line-up of free gigs took place in the foyer.
We spent most of Saturday and some of Sunday sat on the stairs (with hundreds of other people!) looking down on some world class acts.
From the mesmerising sound of brass band Dahkla to the crazy Tom Waits tribute by the hugely entertaining Katya Gorrie, we were well and truly spoilt!
Other highlights included some crazy jazz rock tunes from Innes Sibun and The Rawness with their blend of soul, funk and gospel.
The weekend was brought to a rousing conclusion by the eight piece band, Brass Junkies, who are inspired by the Mardi Gras sounds of New Orleans (which we discovered is now twinned with Bristol!).
The festival may have been indoors but we really felt like we were sat in a field watching some world class bands Glastonbury-style!
The atmosphere was amazing and the fact that so many brilliant acts were free helped introduce jazz to a whole new audience.
We can't wait for next year!
Words: Dan, Pics: Nina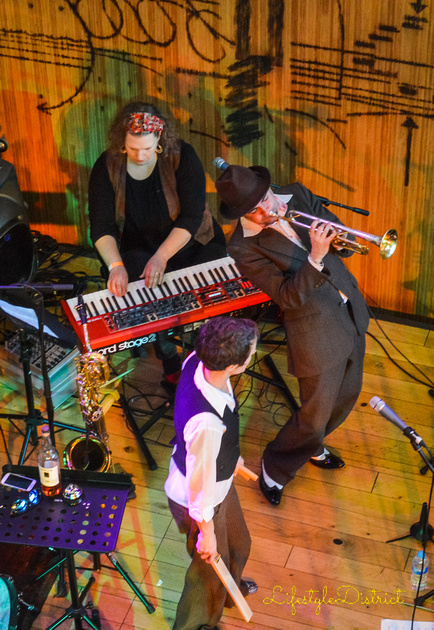 Check out some of the Instagram videos we took: The Rawness | Andy Hague Quartet | Dakhla | Katja Gorrie | Cartoon Jazz | Will Edmund | Brass Junkies